Welcome to the Jericho Underhill Land Trust (JULT)
Jericho Underhill Land Trust is a private, non-profit organization founded for the purpose of conserving our productive working landscape, scenic vistas and important wildlife habitats. JULT accomplishes that mission by working hand-in-hand with landowners and interested citizens who share a similar goal.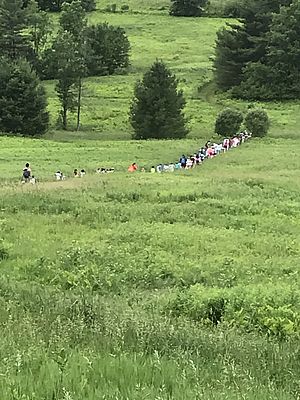 Over 91 percent of Jericho residents voted to conserve the Town-owned Mobbs Farm at Town Meeting Day on March 2, 2021. This overwhelming public support put in motion a lengthy process to protect 232-acres of the 275-acre Mobbs Farm. As with all conservation projects, this property needed to be inventoried for its "conservation values". Of course, Mobbs Farm has plenty! The special qualities of Mobbs include: forestland, wildlife habitats, natural communities, riparian buffers, wetlands, soil productivity, water quality and native flora and fauna.
Also protected is the right for the public to enjoy non-motorized recreation and educational opportunities. The next step to conserving Mobbs farm was to draft a conservation easement. This legal document follows the land in perpetuity and details the important conservation values and how they will be protected. The Vermont Land Trust (VLT) "holds" this easement and is responsible for ensuring that this document is followed with all management decisions.
Beyond the legal aspects of land conservation, there is also the cost. It was determined that $43,000 was needed to pay for all of VLT's legal work plus a sizable stewardship fund to monitor this land by VLT in perpetuity. The JULT was responsible for a sizable portion of this cost and we are extremely thankful to the Kusserow Family Fund for contributing $13,000 towards the conservation of Mobbs. Another $10,000 came from JULT's reserve fund for land protection. This support is where most of your JULT membership contributions go! The Vermont Land Trust also helped with $10,000 from a forest grant. Jericho's Conservation Reserve Fund was also used to provide the last $10,000. This is the FIRST use of this very significant financial resource that Jericho's taxpayers support.
With funding in place, The Town of Jericho and the Vermont Land Trust, along with the Mobbs Committee, worked on the draft conservation easement. On May 12, 2022, the majority of Mobbs Farm was permanently protected. A Town-wide celebration is being planned for this summer. We all have much to be excited about!
---
Ferns and Flowers of Mid-Summer, a Botanical Ramble at Mills Riverside Park
Saturday, July 9th at 10 am
Join UVM botanists and long-time Jericho residents Cathy Paris and Dave Barrington for a casual, all-ages walk to discover what's blooming in the Park at the height of summer. Our leaders will share their knowledge of Vermont's fern flora, a group of special interest to them, and will teach us how to recognize some common species that grace our Vermont woodlands at this time of year. A splendid time is guaranteed for all!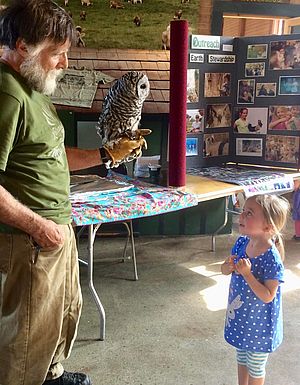 Annual Meeting and Celebration
Monday, August 1, 2022
Mills Riverside Park Pavilion or the Community Center in Jericho, if raining.
6:00 p.m. to 8:00 p.m.
Business meeting at 6:30 p.m.
Come celebrate an extraordinary year of land conservation with us! Refreshments and a half-hour social opportunity will begin at 6:00 p.m. Our short business meeting will commence at 6:30 p.m. and be followed by our guest speaker, Craig Newman. Craig is the current Director and co-founder of Outreach for Earth Stewardship (OFES). OFES offers unique educational programs that stimulate the mind and heart with the help of live raptors who serve as wild ambassadors. Founded in 1989, Outreach for Earth Stewardship's (OFES) mission is to strengthen respect and understanding for wildlife. OFES is licensed by the State of Vermont Department of Fish and Wildlife and the U.S. Fish and Wildlife Department to rehabilitate wild birds and have them serve as animal ambassadors if they cannot be released. Craig is a Jericho resident and has been on-call to respond to many avian emergencies locally and beyond.
2021 Annual Meeting Presentation on Vermont Forests
If you missed it, here is the presentation by Chittenden County Forester Ethan Tapper, our guest speaker (Passcode: m9Cfc@7X)
---
The Riverside Meadow....We Did It!
We are extremely pleased to report that the Riverside Meadow was purchased by JULT on March 24th, 2022. This acquisition means that the meadow will remain a productive hayfield and that the extraordinary view of Mt. Mansfield, through Mills Riverside Park, will remain intact. The Jericho Underhill Park District also receives an easement that allows maintenance and emergency vehicles access off the driveway. This is critical as the park's bridge cannot handle larger vehicles.
We want to thank our community of supporters for your generosity that was displayed as we sought to raise $200,000 in just three months. This was a very tight timeline, and we are thrilled that it was met! JULT matched $25,000 in donations which helped us meet our goal as well. The extraordinary success of this fundraising effort points to the shared interest that our community has for keeping land productive, scenic vistas intact, and wildlife habitat and corridors open. Thank you for supporting our conservation work which helps protect the lands that we all care about. Current and future generations will continue to benefit from the purchase of the Riverside Meadow, and we THANK YOU!
Let's Conserve the Davis Farm!
Located on Cilley Hill Rd. in Jericho, the Davis family has farmed this scenic landscape for multiple generations. Since the 1940's, dairy cows have strolled the open pastures along with other livestock. Chickens have flocked around the barn and provided fresh eggs. Today the Davis Farm continues its dairy tradition and is certified organic. Acres are devoted to growing nutritious hay for the exclusively grass-fed cows, raw milk is for sale along with fresh eggs and carefully crafted compost. Once a dairy farm among many, the Davis Farm is the last one in Jericho.
Right now, the Jericho Underhill Land Trust and the Vermont Land Trust are working with Gary and Tammy Davis to conserve 181-acres of their farm. Their intense love of their land along with the rich history of stewardship over multiple generations provided a strong reason to conserve. Encroaching housing development also offered a motivation to reach out to both land trusts for assistance. A permanent conservation easement involves appraising the value of the development rights and including the additional project costs. This easement will ensure that the farm's excellent soils will remain in agriculture and be protected….forever! The amount that needs to be raised is $751,000. A Vermont Housing and Conservation Board (VHCB) grant was awarded for $701,000 towards this goal.
Now, The Jericho Underhill Land Trust needs to raise an additional $50,000 to complete this conservation mission. Please consider helping by donating online or sending a tax-deductible donation to JULT with the Davis Farm listed on the memo line. Our address is JULT P.O. Box 80, Jericho, VT. 05465. Together, we can help conserve the Davis Farm for today and tomorrow.
---
The advisory vote to conserve Mobbs Farm passed overwhelmingly. The vote count was 1033 to 101. Jericho residents sent a clear message to the Selectboard to pursue the permanent protection of this exquisite land. Next steps include an affirmative vote by the Selectboard to proceed. The Mobbs Farm Committee, along with JULT, will be working hard to keep this favorable momentum going. Vermont Land Trust (VLT) will work with the Town on a conservation easement that VLT will "hold". The cost to conserve Mobbs Farm is $43,000 with $25,000 of that going into a VLT stewardship endowment fund. This ensures that VLT has the resources necessary to monitor Mobbs Farm in perpetuity. Monitoring involves walking the land on an annual basis to check for any conservation easement violations or encroachments and of course, helping with any stewardship questions.
Additional good news includes that the $43,000 necessary has already been raised from a number of funds. JULT is contributing $10,000 and another $13,000 through a very generous donation. VLT is supporting this effort with $10,000 though a Town forest grant and $10, 000 is coming from Jericho's Conservation Reserve Fund (CRF). This last sum needs to be approved by the selectboard and we expect that it will be. The Jericho Conservation Committee sent the CRF application with a very high recommendation for funding. We are looking forward to including Mobbs Farm in JULT's list of conserved properties in Jericho and Underhill that provide exceptional recreational opportunities along scenic and diverse landscapes.
---
Slideshow: Our lands look beautiful in all seasons!
Local farm fresh produce, remote wildlife habitat, extraordinary scenic vistas, trails for year round enjoyment and so much more... the Jericho Underhill Land Trust works diligently to permanently protect the natural areas that make our community so special. If you are not already a member, please consider joining us!
Our lands serve many purposes including recreation, wildlife habitat, agriculture and forestry.