Vermont Land Trust 40th Anniversary Celebration
August 5, 2017
Come celebrate the Vermont Land Trust's 40th anniversary at Mills Riverside Park on August 5, 2017 from 10 a.m. to 12 noon. Explore a variety of habitats including river, pond, open meadow, and forested hillside with board members and staff from the Jericho Underhill Land Trust and the Vermont Land Trust.
For additional details, please view this event on the Vermont Land Trust website.
Invasive Barberry Removal Day at Kikas Valley Farm: October 20, 2012
Come join us on October 20th at Kikas Valley Farm for an invasive plant removal day. We are partnering with The Jericho Conservation Commission to combat invasive Japanese barberry, which is over running the wood lands behind the Kikas Valley farmlands. Japanese barberry is a very aggressive plant, not only does it make walking through the woods extremely unpleasant, but it crowds out native plants and dominates the understory of our woodlands. We will be meeting at Kikas Valley Farm off Skunk Hollow Road at 9:00 AM. Parking is available at the designated parking lot on the left after you enter the Wingate development on Tyler Place. Barberry is covered with very sharp thorns so gloves and protective clothing are recomended. Bring loppers and digging tools if you have them. We appreciate your help!
Cairn Walk at gateway June 23, 2012 at 10:00AM
Come see the cairns on our "Gateway" property! Save the date of June 23 at 10:00 A.M. for a casual walk led by JULT member Joanna Carpenter to observe these mysterious lithic creations. We will carpool from Jericho Center at 9:45 or you can meet us at the Stage Road entrance. Any questions...please contact John Koier at 899-1830. Here is a very informative site for those interested in a preview of what we may be looking at, possible reasons they were built, and by whom: www.stonestructures.org.
JULT's Annual Meeting: May 7th, 6:30 PM at the Underhill Town Hall
Please join us for our Annual Meeting at the town hall in Underhill. We look forward to sharing our latest conservation updates along with some excellent refreshments. Our guest speaker is Lisa Gannon of NEARA (New England Antiquities Research Association). Her Power Point presentation will be "Stunning Stonework: The Sacred Landscape of West Bolton Vermont". She writes, "There exists a myriad of enigmatic stonework in the woods surrounding West Bolton, much of it resting on land conserved by The Jericho Land Trust" Come see!
Wild Apple Tree Release Work Party: Wolfrun Natural Area April 7, 9:00 to Noon.
Jericho Underhill Land Trust is conducting their first annual Wild Apple Tree Release & Pruning Work Party on April 7, 2012 from 9:00 until Noon at Wolfrun Natural Area. Throughout Vermont's old grown-up pastures and abandoned home sites are found wild apple trees, often as not, hemmed in and overtopped by the maturing forest around them. Many of these trees would produce fruit for wildlife if they were allowed to receive the sunlight they require. Fortunately, with a little work any landowner can improve the fruit production of these trees creating a bonanza for wildlife and the possibility of a jug or two of cider as well. Come and learn some simple techniques for apple tree prune/release, then roll up your sleeves and practice what you've learned for the benefit of Wolfrun's wildlife habitat. JULT board members John Koier and Trevor Squirrell will be leading this event. Call John at 899-1830 for further information. Bring sharp pruning shears, loppers, pole pruners and bow saws if you have them. (See JULT's Facebook page for a tool illustration.)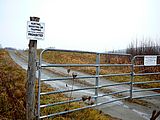 Kikas Valley Farm Agricultural Field Now Posted
Sadly, we had to post the 75 acre agricultural field leased by Paul Mazza at Kikas Valley Farm off Skunk Hollow Rd. Goose hunters firing shotguns (first time this has happened) were not compatible with the nearby Wingate development. JULT's policy has always been to allow hunting on our properties. This is the first time we have had to prohibit hunting. Hopefully the rest of our properties will remain available for hunting as there are fewer and fewer places left in Chittenden County where this traditional activity is allowed.
Wolfrun Access Lost again!
All was well at Wolfrun for about a week and then along came Irene. The wall of water that roared out of Moose Pond when the over stressed beaver dam gave out again was too much for our recently repaired road bed. We now have a gully ten feet wide and about four feet deep in the road in to Wolfrun. This time we are getting some donated engineering consultation. We will size two culverts appropriately to handle the overflow predicted from our completed engineering study and pack them in with large rocks that will resist the force of that amount of water. Because the rocks will have to be trucked in, we have to create a turnaround space that will handle a large dump truck. This project will be completed before winter freeze up.
In early May, due to high rainfall and the resultant Moose Pond beaver dam blow-out, we lost the "land bridge" our only direct access to Wolfrun Natural Area. After a good deal of head scratching and review of various repair scenarios, we lined up a contractor to assess the situation and started repairs. Follow this link to access the full story and photos.
Farmer's Market continues at Mills Riverside Park
The Jericho Mills Riverside Farmers' Market continues to operate at:
Mills Riverside Park, Rte 15
Thursdays 3 - 7 PM - June 1 through September 30, 2011
Contact: Kelly Brannagan King - 802-343-9778
millsriversidemarket@[remove this text]pmail.com
Wolfrun Walk - June 11, 2011
On Saturday, June 11, members and guests joined JULT for a walk in the Wolfrun Natural Area. This property encompasses 279 acres of diverse wildlife habitat and an extensive wetland complex. Wolfrun is the keystone property that connects essential wildlife corridors between the Green Mountains and the Champlain Valley.
Strategic Conservation Planning
The JULT board has recently embarked on a strategic conservation planning effort to establish guidelines for prioritizing key portions of land within our two communities which would benefit most from conservation efforts. To see a rough draft of possible guidelines go here.
JULT Annual Meeting - May 9, 2011
The 2011 Jericho Underhill Land Trust Annual Meeting featured a financial report, year in review summary, Q&A and a presentation on the deer of North America by Sue Morse of Keeping Track. Read the minutes here.