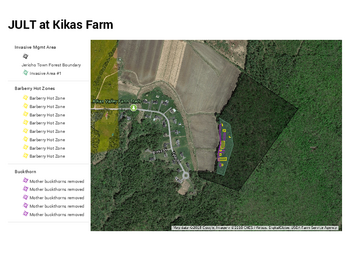 Kikas Valley Farm: Invasive Management Project, Visit #1
October 8, 2018: JULT is pleased to announce that we have taken another step forward in dealing with the invasive plants on our Kikas Valley property off Skunk Hollow Road in Jericho.
We hired a crew from the Intervale Conservation Nursery to spend a day cutting and pulling Buckthorn and Barberry. They got a lot done and will return in the spring for a follow-up.
This is just the beginning of what will probably be a perpetual struggle to get the many invasive plants under some kind of control on this property.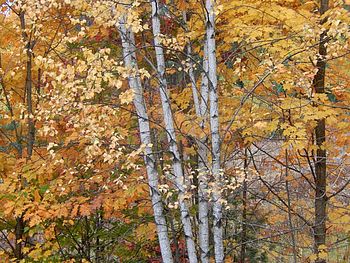 Kikas Valley Overlook Acquisition
In December 2018, JULT received a "Christmas present" of a 71 acre parcel just up the hill from Kikas Valley Farm. Thanks to a generous member we were given this parcel outright. This additional lot abuts Barber Farm land and will preserve wildlife connectivity between Jericho and the Winooski River corridor.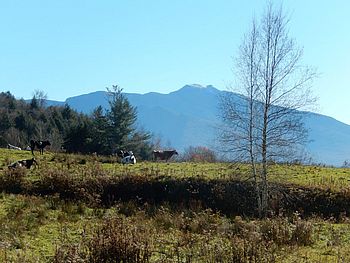 10 Acre Acquisition of Skunk Hollow Pasture
In the fall of 2017, JULT received a donation of 10 acres of pasture adjoining our Kikas Valley Farm lands. This land is part of a 20 acre piece that has been used for many years by a local farmer for grazing his beef cows. The 10 acre parcel we acquired was the portion of the pasture that was suitable for housing development. Thanks to our preservation the farmer can continue to use this land for agricultural purposes.
Wolfrun/Gateway Trail Map Now Available on Trail Finder
Thanks to the good folks at Local Motion's Trail Finder we now have a map of The Wolfrun and Gateway properties. Use this link to get there!