Notice of Event Cancellations
Due to the coronavirus pandemic, we have cancelled all our spring events including our Annual Meeting, spring wildflower walk and annual bird walk. We hope to be able to keep our September fall wildflower walk with Liz Thompson.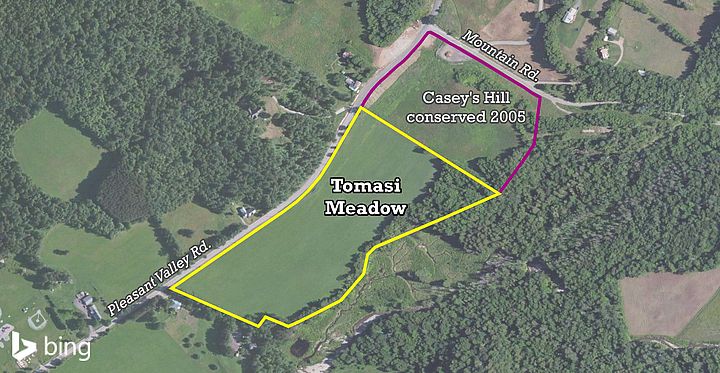 The Opportunity
For over 70 years, the Tomasi family has owned and cared for an extraordinarily beautiful expanse of open meadow. All travelers in Underhill along Pleasant Valley Road have quietly enjoyed this scenic vista, which stretches towards Casey's Hill and Mt. Mansfield. The opportunity to purchase and protect the Tomasi Meadow is now!
The Challenge
The total cost of a conservation purchase of the Tomasi Meadow is $231,000. This sum includes the land, a survey, legal work, a stewardship endowment to monitor the land in perpetuity, and all other project expenses. The good news is that the Vermont Housing and Conservation Board has granted $155,000 towards this effort. The remaining amount to be raised is $76,000. There will be a vote at Underhill's Town Meeting to contribute $20,000 towards this purchase. The Jericho Underhill Land Trust is working with the Vermont Land Trust to raise the remaining $56,000.
Community Asset
The Tomasi Meadow offers many opportunities. Besides the iconic view to Casey's Hill, this land is also a productive hayfield. The Tomasi Meadow can also provide perimeter trails for year round recreation and an outdoor classroom for the Underhill Central School. Children sledding on Casey's Hill, often finish their fast rides on the Tomasi Meadow. In 2005, Casey's Hill was purchased and conserved for the Town of Underhill. Today, we all have another chance to invest in our community.
Answers to Frequently Asked Questions
Get project details in this Q&A from JULT and Vermont Land Trust (PDF, 165 KB, 1/13/20)
IT CAN HAPPEN WITH YOUR HELP!
The conservation purchase of the Tomasi Meadow for the Town of Underhill depends on your help. We need to raise $56,000 by August 30, 2020. Won't you help preserve this distinctive landscape by making a tax-deductible contributiontoday?
Please make checks to the Jericho Underhill Land Trust (Tomasi Meadow) and mail to JULT, P.O. Box 80, Jericho, Vermont 05465. Donations can also be made online using our secure form. Thank you!
---
Kikas Valley Farm: Invasive Management Project, Visit #1
October 8, 2018: JULT is pleased to announce that we have taken another step forward in dealing with the invasive plants on our Kikas Valley property off Skunk Hollow Road in Jericho.
We hired a crew from the Intervale Conservation Nursery to spend a day cutting and pulling Buckthorn and Barberry. They got a lot done and will return in the spring for a follow-up.
This is just the beginning of what will probably be a perpetual struggle to get the many invasive plants under some kind of control on this property.
---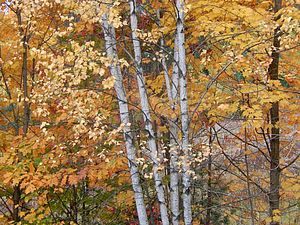 Kikas Valley Overlook Acquisition
In December 2018, JULT received a "Christmas present" of a 71 acre parcel just up the hill from Kikas Valley Farm. Thanks to a generous member we were given this parcel outright. This additional lot abuts Barber Farm land and will preserve wildlife connectivity between Jericho and the Winooski River corridor.
---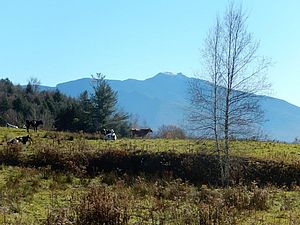 10 Acre Acquisition of Skunk Hollow Pasture
In the fall of 2017, JULT received a donation of 10 acres of pasture adjoining our Kikas Valley Farm lands. This land is part of a 20 acre piece that has been used for many years by a local farmer for grazing his beef cows. The 10 acre parcel we acquired was the portion of the pasture that was suitable for housing development. Thanks to our preservation the farmer can continue to use this land for agricultural purposes.
---
Wolfrun/Gateway Trail Map Now Available on Trail Finder
Thanks to the good folks at Local Motion's Trail Finder we now have a map of The Wolfrun and Gateway properties. Use this link to get there!